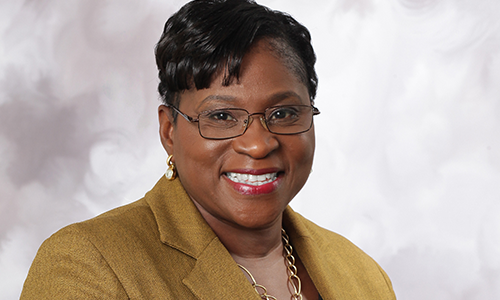 2 Cor 4:7 – "But we have this treasure in earthen vessels,
that the excellency of the power may be of God, and not of us."
Pastor Sonja R. Dawson
The Reverend Dr. Sonja R. Dawson is a native of Compton, California. Currently, she serves as the Senior Pastor of the historic New Mt. Calvary Missionary Baptist Church, co-founded by her father and mother, the late Reverend Dr. Lonnie and First Lady Emeritus Mamie P. Dawson, which has served the South Los Angeles community for more than fifty-four years. Additionally, Dr. Dawson is the founder and chief executive officer of Sisters in Ministry Incorporated.
In 2004, the Lord gave her a vision to bring together women in ministry to encourage one another for the perfecting of the ministry and glorification of the kingdom. With the support of several friends in ministry, Dr. Dawson established Sisters in Ministry, ("SIM"). SIM began with 5 women and has grown to over 500 supporters in its short tenure. SIM has quarterly events including worship services, training classes, conferences, prayer breakfasts, and street revivals to promote its three-fold mission: (1) sisterhood among women clergy, (2) excellence in ministry, and (3) surrendered service to the Body of Christ.
By example and edict, Dr. Dawson has worked tirelessly to inspire people to change the world. Dr. Dawson's message of hope reflects the Biblical mandate of 2 Corinthians 4:7, "But we have this treasure in earthen vessels, that the Excellency of the power may be of God, and not of us." Licensed and ordained by her father, Dr. Dawson has served in a variety of ministry capacities including Sunday school teacher, Youth Department Director, Women's Department Minister, and Executive Pastor. Further, as a powerful and anointed preacher, teacher and speaker, Dr. Dawson has used her gifts in the ministry, both nationally and internationally. Additionally, her practical, yet in-depth approach to the word of God unites diverse audiences and offers a meaningful approach for Christian living.
Dr. Dawson pursued her secondary education at the University of California Irvine where she received a Bachelor of Arts in Psychology. She went on to receive a Master in Public Administration from the University of Southern California and a Juris Doctorate degree from Southwestern University School of Law. An avid student, she has completed coursework at Fuller Theological Seminary, Southern California School of Ministry, and Golden Gate Baptist Theological Seminary.
A bi-vocational leader, Dr. Dawson is a member of the American Bar Association and the State Bar of California. She has had a long and rewarding career with the City of Los Angeles. She also is the creator of the City of Los Angeles Prostitution Diversion program for first-time offenders. This program allows an opportunity for rehabilitation and education. In March 2009, Pastor Dawson traveled to Washington, D.C. to participate in the highly regarded honor of being "sworn in" to the United States Supreme Court.
As a leader in social and civic organizations, Dr. Dawson's professional memberships include Delta Sigma Theta Sorority Inc., in addition to being selected to serve on the Los Angeles board of the United Negro College Fund. Dr. Dawson also received a certificate of completion from the USC Passing the Mantle Clergy and Lay Leadership Institute.
Dr. Dawson continues to be active in communities, women's ministries, cross-denominational churches, and professional and paraprofessional ministry groups, both nationally and internationally, seeking justice and transformation for the kingdom of God.
Dr. Dawson is proud to serve in ministry with her family and gives all glory and honor to God for all that He has allowed her to do for His kingdom.